昨日の日本語を英語に直したものです(ちょっと違うところもありますが)。
I translated what I wrote yesterday into English, though there might be many mistakes...
---
In Naha city, Okinawa, earlier this month, there were two lectures on
LGBT activism in the U.S.
One was small one I coordinated and held in GRADi, the community
space & school I'm running. The title was "Recent trend of LGBT
Activism in the U.S," which Tomonori Sugimoto presented.
I taught him in a class when he was an undergraduate student in
University of Tokyo. And now he is a Ph.D. course student in Stanford
University, majoring in cultural anthropology.
Another one was held by the Consulate General of the United States
Okinawa, being cosponsored by Pink Dot Okinawa and nominal
supported by Naha city. It was "LGBT Rights are Human Rights:
Ensuring Equality for All Citizens Under the Obama Administration"
by Brian Moulton, Legal Director of Human Rights Campaign.
Though both are on almost same theme, the perspectives are very
different.  All the more, those were inspiring for us, members of
Pink Dot Okinawa who has started LGBT& Allies movement in Okinawa.
▼"Recent trend of LGBT Activism in the U.S"
Sugimoto pointed out that LGBT activism in 2000s shifted from
HIV/AIDS issues, and became mainstream. And now there is friction
between "mainstream organizations" and those which tackles other
issues like race, class and poverty. In addition to that, some people
object to making "marriage equality" the first agenda item or oppose
to being included in the army. There is also a gap between academic
theory and activism.
In such a state, a book "Terrorist Assemblages" by Jabir Puar impacted
LGBT activism, he said. She wrote about what happened in the process
of LGBT being included and adjusted in the nation system of the U.S.,
indicating a problem of LGBT supports for the Iraq war.
In the last of his presentation, Sugimoto said that marriage equality
should not be the goal of LGBT movements and there were many
problems left in LGBT circumstances.
▼"LGBT Rights are Human Rights"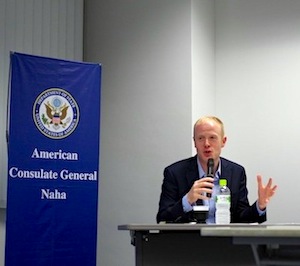 Human Rights Campaign (HRC) is one of the
"mainstream organizations" as it's the biggest LGBT
rights organization in the U.S., having 2 million
members (!).
Brian Moulton, Legal
Director of HRC, was
dispatched by the
Department of State
to give lectures about
LGBT rights in Japan. He were to visit in 5 prefectures, and Okinawa
was second in this tour.
As the movie of the lecture is uploaded in the YouTube page of the
Consulate General of the United States Okinawa, I don't write
the summary here, but some thoughts on it.
What I was impressed the most was the elaborateness of their strategy. How to involve various sectors, how to make use of celebrities and how to choose words for campaigns....
I thought they didn't waver on their missions, even if they were
criticized by other LGBT groups like that Sugimoto explained.
They have clear and firm missions.
▼What I thought after these lectures...
We, members of Pink Dot Okinawa, discuss the relationship between
doing activism and becoming mainstream. Though each of us had a
different standpoint, we came to conclusion like that...
To change societies and resolve problems, becoming mainstream is
essential. However, in order to do so, we need to in some extent to
adjust to the establishment, which often decay the activism and lose
its meanings. The balance is very difficult and crucial. We must be
always carefully strategic and reflexive. It's not so only in LGBT
activism, but in every minority movement.
And I think that oppressions in a society are complex and work in
various forms, which are full of inconsistency. It means that
movements/activism also should have various forms, which may
direct to different goals or have disparate ways of activism.
What is important for us is to admit that we cannot avoid such
imcompatiblility among us and to think it's an outcome of
responding to mixed and non-coherent societies. We should not
shoot arrows to eagerly among LGBT movements/activism,
though we always need discussion.
There are much bigger targets we should.